NEW STAND-ALONE NOVEL
by USA Today Bestselling Author, Chelle Bliss
Released on January 26th – LIVE

EVERYTHING CHANGED IN AN INSTANT.
I thought I knew what was important, but one phone call sent my life into a tailspin.
Alone and afraid, I cling to the one man I shouldn't.
I was warned about him and told to stay away. "He's dangerous," they said.
But the man who could hurt me the most, gave me the greatest comfort.
"He's not who they think," I told myself.
But just like an illusion, things are never what they seem.

 REVIEW
What can one say about the a write like Chelle Bliss, that us readers don't already know? I was lucky enough to receive Enshrine as a gift from the author, in exchange for sharing my thoughts. Its hard to find where to begin.
As I started reading I honestly had to go back and reread a bit. Each chapter gave me more to think about, a different type of story a different style than what I'd come to expect. Did it work? Oh yeah it was amazing how as you read you could feel the character development. Chelle puts so much feeling into the story, I felt like it was part of her.
The way Callie is written, you see stages of her growth the fun, the strength. You feel her shock and then her giving up. When Bruno walks into personal space its all or nothing, he shows her not only she should stand and fight but why she is fighting and what she is fighting. Bruno has some demons of his own, but in helping Callie it gives him his own grip on his reality. He has a wonderful family but he's always trying to hold back. Keep himself guarded. Afraid for them, when in fact they are stronger than he gives them credit for.
Love is never easy but you have to come to realize life isn't easy and if its worth having then its worth fighting for. Bruno and Callie are endearing, passionate, soulful and in some aspects living life that can be related to. It touched my heart, made me smile and made me cry. Chelle Bliss does it again by bringing a awesome story, fab characters to life. I recommend this standalone I enjoyed and I'm sure you will also.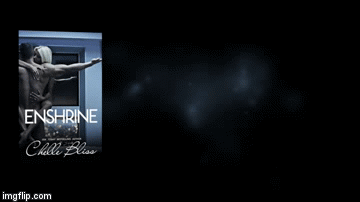 Available at the following retailers
AMAZON
IBOOKS
NOOK
KOBO
GOOGLEPLAY
ENSHRINE GIVEAWAY – OPEN INTERNATIONALLY
ABOUT THE AUTHOR
USA Today Bestselling author, Chelle Bliss, currently lives in a small town near the Gulf of Mexico in Florida. She's a full-time writer, time-waster extraordinaire, social media addict, and coffee fiend. She's written over ten books and has two series available. She loves spending her free time with her boyfriend, 2 cats, and her hamster.
Before becoming a writer, Chelle taught high school history for over ten years. She holds a master's degree in Instructional Technology and a bachelor's in history. Although history is her first love, writing has become her dream job and she can't imagine doing anything else.
FACEBOOK | NEWSLETTER | TWITTER | INSTAGRAM | WEBSITE
ALSO BY CHELLE BLISS
AMAZON | IBOOKS | NOOK | KOBO | GOOGLE | WEBSITE